| COURSE SOLD OUT |

Please join our newsletter to be notified when future course come available
Get Inside Access to the Knowledge of Top Publishing Professionals to Help You...
Craft a book that does justice to your vision
Connect with publishing insiders
Remove impediments that hold you back
Unleash your full creative energy & potential
Breakthrough with your story and ideas
Master the business side of authorship
Navigate the world of commercial publishing
Pitch to traditional publishers
Market yourself online and to bookstores
Succeed on both social and traditional media 
Exclusive Online Course Created by Exisle Publishing and EK Books.


Dear Writer,
Becoming an author is a frustrating process: Not only do you have to bare your soul to the world as you are writing your book, you also have to deal with editing, pitching to publishers, dealing with contracts and royalties, getting into the media, selling to bookstores and online, and so much more.
As publishers from traditional publishing houses Exisle Publishing (est. 1991) and EK Books, we see this from the other side of the desk. We receive thousands of submissions every year, and inevitably have to turn down many books which huge potential. What holds these authors back isn't their ideas: It's the fact that they lack the knowledge to present their book and themselves in a way that is appealing to the professional book world.
Fed up with seeing otherwise worthy authors miss out on success because of a lack of knowledge and guidance, we created Exisle Academy to share our 30+ years of publishing experience. Over the last several months, we have been working to compile the most essential information authors and aspiring authors need to know into one comprehensive online course which is now ready for you.
Whether you want to get your first book published by a traditional publishing house, overcome creative blocks with a manuscript that is in progress, or increase sales of your existing books, you're about to get access to the practical wisdom to help you get there. And that's not all: Knowledge is power, but connection is everything. That's why our senior publishers have made time to personally speak with and mentor students of this program to help you overcome barriers and start experiencing success as an author and writer.
Learn at Your Own Pace with Video and Written Modules, Get Your Personal Support and Guidance, and Earn a Certificate of Completion
30 Years. 2,000 Books. Millions of Readers Worldwide.

Exisle Publishing was founded in the early 1990s with the mission of giving a voice to writers whom the mainstream often overlooked. Ironically, we've since become something of a mainstream publisher ourselves, with branches in Australia, New Zealand, the United States and United Kingdom, and a successful children's imprint, EK Books.

Despite our global success, we haven't forgotten our roots and our mission. With Exisle Academy we want to guide people who have a message to share, but may not yet have the knowledge, experience and industry contacts to make their book the success it deserves to be.
Case Study: Cookie by a First-Time Children's Author

Isabelle Duff joined Exisle Academy because she had a story to tell, but needed help finding her voice and connecting her story to her audience. Exisle Academy helped Isabelle connect with the core of her message and express her story authentically. Using our network, we were able to introduce her to an illustrator who could bring the images in her mind to life.
After developing the manuscript with Exisle Academy, Isabelle was offered a traditional, royalty-based publishing contract with EK Books. Cookie sold-out its first print run and is already being reprinted. It is currently on bookshelves in schools and libraries across the world.
Learn Online at Your Own Pace. Get Personal Support.
Earn a Certificate.

Here's How Exisle Academy's Online Author Training Program Works:
Exisle Academy's Online Author Training program provides you with a mix of materials and access designed to help you succeed at both the creative and commercial side of being an author.
Whether you're still working on your first book, seeking a publishing contract, looking to improve the performance of existing books, or just focused on succeeding as an author in general, you will get the knowledge and access you need to start getting results.
From the moment you sign up, you'll become a part of the Exisle Publishing and EK Books family, and we'll arm you with three kinds of specially prepared resources:
Resource #1: - Written Modules: As a student, you'll get access to a series of written modules, professionally crafted and instantly available at your fingertips in PDF form. These highly practical, actionable guides are designed to quickly give you the information you need to make strategic improvements and take decisive action towards your goals.

Looking to pitch a book, break into the media, or check the validity of a publishing contract? Choose the module that suits your goals!
Resource #2 - Video Lessons: You'll also get access to exclusive, in-depth video training modules. These videos are taught by senior, practicing publishing professionals with experience bringing thousands of successful books into the world. They'll break down the exact steps they use with their signed and contracted authors to help their books breakthrough into the publishing and media mainstream.

Imagine meeting the marketing director of Exisle Publishing and the Editorial Director of EK Books, and learning directly from them how they bring successful books into the world.


Resource #3: Personal Mentorship: In addition to instant access to all video and written modules the moment you join, you will also get insider access to senior publishers from Exisle Publishing and EK Books. You will be given the contact details to ask questions from the moment you join, and have up to six months from enrolling to schedule a mentorship and consulting call at a time that suits you.

Sit down on Zoom or Skype with a top publisher and discuss your book (if you have one), ask your questions, and come up with a plan to take your writing career to the next level!
Excited to invest in your writing career? Let's take a deep look at the Online Learning Resources + Personal Support that you're about to get instant access to:
Online Learning Part #1: Your Book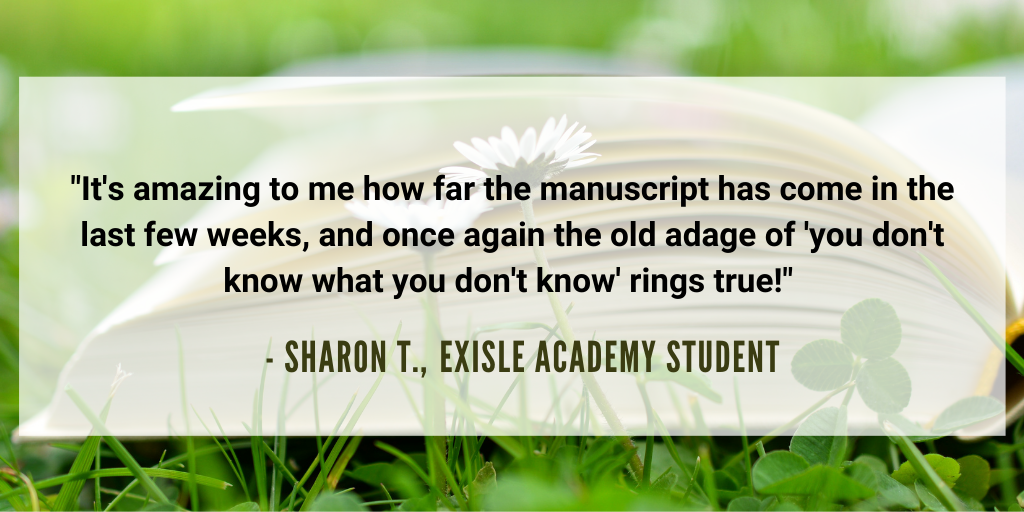 The first half of the online course is about your book and your writing. If you don't yet have a completed manuscript, then this will help you create yours with focus and confidence. If you do have a manuscript, you'll learn how to objectively assess it with a publisher's eyes, and make targeted improvements designed to dramatically increase your chances of hearing "Yes."
Here's What's Inside Section #1:
Written Module - Pitch Perfect: Learn exactly what publishers are looking for, and how to impress even the busiest editor with a well targeted pitch.
Written Module - Writing Space and Time: We all live busy, complex lives. Discover proven strategies for making your writing a consistent priority and creating the space and time you need.
Written Module - Unleash Your Creativity: Learn how to channel your voice and realize your creative potential to write and edit your book to make it as good as it can be.
Written Module - How to Win Writing Competitions: Standing out from thousands of other stories is more science than art.
Written Module - Manuscript Minefields: Every successful book is unique, but nearly all unsuccessful books make one of these

seven key mistakes

.
Video Module - Getting Accepted: Sit down with Exisle Publishing CEO and Founder Gareth St John Thomas for a fireside chat about how and why we choose to say "Yes!" to some books but not others.
Online Learning Part #2: Your Business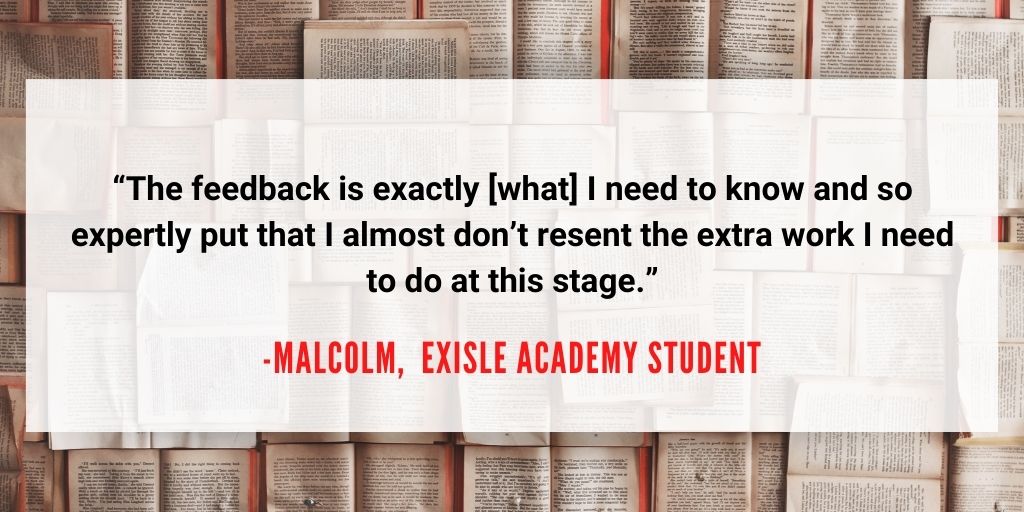 In the second half of the online course, (remember, you get instant access to everything the moment you join) we'll share the benefits of our 30+ years of succeeding as a traditional publishing house to show you how to confidently navigate the commercial side of being an author.
Most writers know little about how the publishing industry works, which makes it easy for them to get frustrated and even be taken advantage of by less than scrupulous operators. In these no-nonsense written and video modules, you'll get an unflinching insider's guide to how books are produced, bought and sold in today's world:
Here's What's Inside Part #2:
Written Module - The Business of Publishing: Here's your high-level overview of the commercial side of making, marketing and selling books from the printing house to the bookstore shelf.
Written Module - Nuts & Bolts: Let's get down to details. After reading this module, you will understand the publishing world better than 99% of all writers.
Written Module - Business Meets Marketing: How do people decide to buy this book but not that book, and how can authors influence this process?
Written Module - Publicity and Marketing: If you've ever seen an author sitting on a major talk show on national TV, this module reveals the step-by-step process that may have gotten them there.
Written Module - Legal Clarity: What should you look out for in a publishing contract, how do royalties work, and how can you tell who to trust in the publishing world?
Video Module - Book Production: How do beautiful books arise from that messy manuscript on your computer, and what are the costs and opportunities at play here?
Video Module - The Sales Department: Most self-published writers are completely excluded from high street bookstores, here's how traditional publishers crack that space.
Video Module - Sales and Marketing: Sit down with the international marketing team from Exisle and EK Books and hear how they get books like yours in the media and help authors succeed online.
Get Instant Online Access to All Materials the Moment You Sign Up - Go Through Them at Your Own Pace - They're Yours to Keep For Life!
Support & Mentorship: Get Access to Senior Publishers to Advise and Guide Your Journey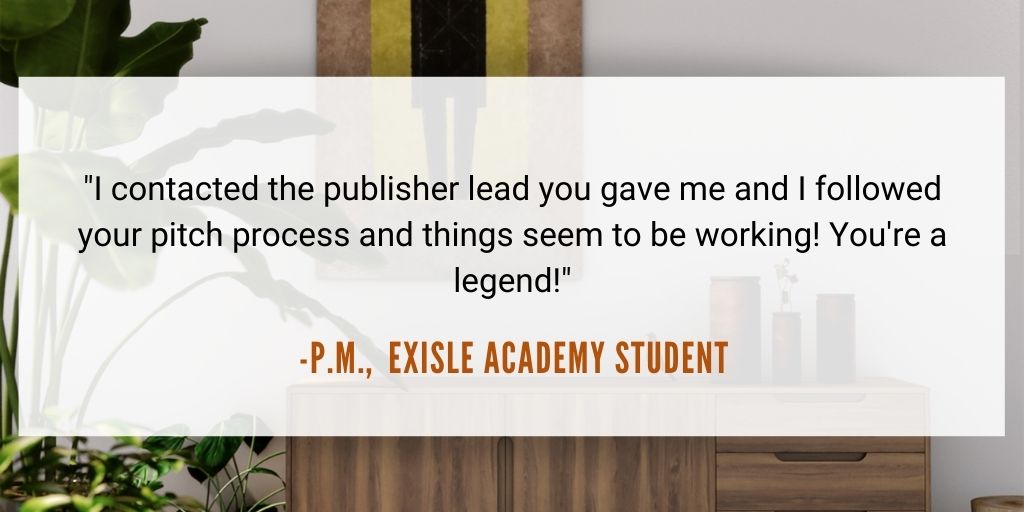 As student on the online training program, you will get access to a senior publisher from the EK Books (Children's books) or Exisle (non-fiction) publishing teams. You will be able to ask questions via email, and also schedule a mentorship and consulting call to discuss your book, get advice, and come up with a plan to bring your writing to the world.
Our senior publishers have blocked out time to work with Exisle Academy students across all time zones, and you will be connecting to a publishing mentor whose experience and focus best matches the genre of your book/manuscript/outline and your writing goals. You can book your mentorship call any time within the first six months of your enrollment, so you will have plenty of time to explore the material and prepare for the call with confidence.
On your side: As an Exisle Academy student, you become part of the family, and our senior publishers will be there to help and support your journey. Don't worry, they may be top professionals, but they don't bite!
Your Timeline as an Exisle Academy Student:

Today: Enroll and Get Instant Access to All Materials:

Enroll today with the button below (it just takes a minute) and you'll get instant online access to all written and audio modules. You'll have a wealth of information at your fingertips, so we encourage you to take your time, and explore the course at your own pace. While we recommend you explore the material in the sequence we have suggested, starting with the Creative section and then moving onto the Commercial section, you also have freedom to jump around and zoom in on the materials that interest you the most.

The materials are yours to download and keep for life!


Over the Next Six Months: Book Your Mentorship Call When You Are Ready

Take your time to explore the materials at your own pace, and when you feel ready, reach out with the private contact details we will provide you to schedule your mentoring call. We will ask you some questions about where you are on your writing journey in advance, and use this to connect you with a member of the EK Books or Exisle Publishing team whose expertise best matches your writing, sales and publishing goals. Together, you'll work on a plan to help you bring your book to life and achieve your creative and sales goals.

You will also be able to email up to three publishing questions to be answered by our senior publishers: You can use these before or after the call, it's up to you!


Within One Year of Enrollment: Claim Your Certificate of Completion

Whenever you feel you're ready, drop our friendly team an email with the private contact details provided to request your certificate of completion. This will be professionally printed in one of our global offices, and posted to you, attesting to your commitment to your ongoing education as an author and knowledge of book publishing best practices. 
Writers at All Stages of the Journey Accepted
Exisle Academy students range from authors who already have several successful books out there to aspiring writers who have only committed a few tentative words to the page. We are used to working with authors who have previously self-published and now want to use the reach and resources of a mainstream, traditional publisher, as well as authors who have creative or publishing blocks they want to overcome. Wherever you are now, our senior publishers have the knowledge and the experiences to get you to where you want to be. While writers of all genres are accepted to Exisle Academy, our professional specializations are children's picture books and non-fiction books for adults such as memoir, history, travel and self-help.
Ready to become a successful published author? Enroll today: