Lilian Wissink has over twenty years' experience as a counselling psychologist. Her passion lies in assisting people to discover and realise their true potential by helping them to develop compassionate self-awareness, find new creative outlets and learn new skills. Lilian's own creative expression has taken many forms over the years including acting, drawing, painting, photography, singing and dancing. Over the past decade, she has evolved as an artist - from being a complete beginner to taking part in art exhibitions. Through the example she sets in her own life and through the message of her book, The Creative Seed, Lilian proves that creativity isn't something you either have or don't have; it's a thing you can grow and nurture over time – like a seed.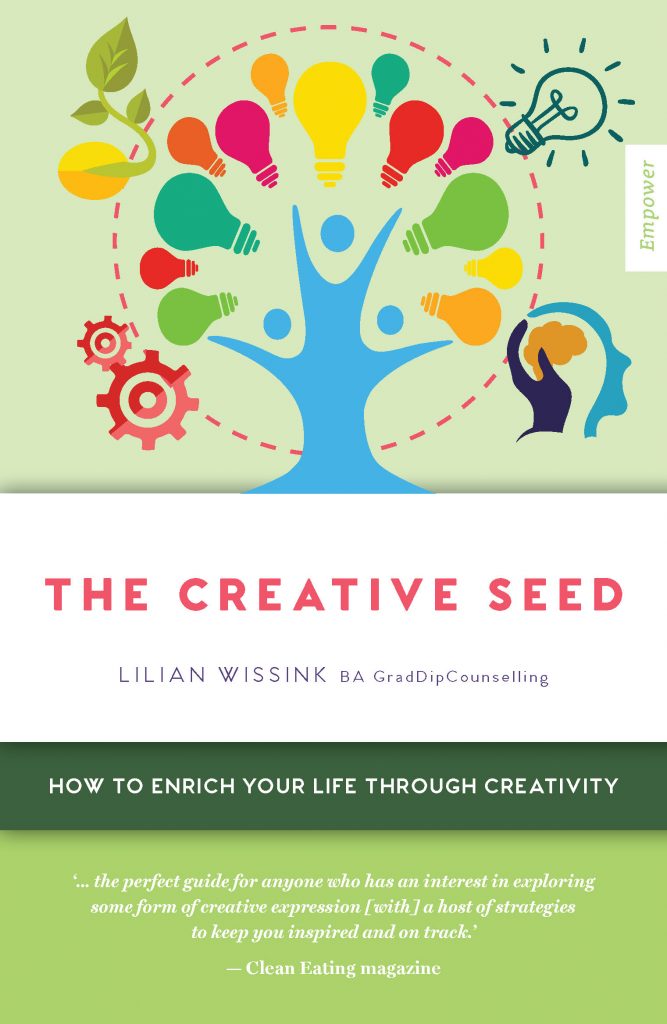 What inspired you to write The Creative Seed?
I wanted to demystify the creative process. So many people believe they are not the creative type or if they are involved, they are thwarted by the common ups and downs of the creative process, especially believing that they are not 'good enough'. I'm fascinated by how we can go from knowing very little about a particular creative area and develop our creativity over time. The initial trigger for me was discovering the fun and enjoyment of drawing and painting in mid-life. I'd always believed that art was beyond me, but I realised after learning a few skills that I had the capacity to keep developing my art to the stage where I now sometimes sell my paintings! I also realised that there are many health benefits in being involved in creative activities. As a Counselling Psychologist, I found that when clients were guided to explore creativity as an avenue of self-expression and self-care they experienced an increase in self-esteem and a decrease in their stress-related symptoms.
What was the publishing process like, and how long did it take?
I think it took about 6 months. Before starting to submit my manuscript to publishers I did a lot of homework. I read a book called A Decent Proposal: How to sell your book to an Australian publisher or literary agent by Rhona Whitton and Sheila Hollingsworth (Australian Society of Authors). I also googled the topic and got as much information as possible. My manuscript had already been thoroughly edited so I felt ready to send it off to different publishers. It was scary. How many rejections would I get? I submitted my manuscript to several publishers before Exisle Publishing contacted me within a couple of days of receiving my manuscript. This was very exciting as I felt they got what I was on about, so I immediately felt it was the right match.
What did you wish you knew before getting your book published?
I hadn't realised that there would be such a busy period of promoting the book when it was first released, mainly through radio interviews and writing articles. This was demanding, but it was also a lot of fun and it was very satisfying. I enjoyed the experience. When the book was reprinted in 2020 I started a Facebook Author page and an Instagram page. Social media has really expanded in the last few years and I wish I had known more about this aspect of promoting the book when it was first released in 2013.
Is there anything about the writing or publishing process that you would have done differently?
I enjoyed the process of writing my book. There were several stages and many drafts. I knew that writing this book was also a creative process and that there would be ups and downs. I started with very broad-brush strokes of what my book would be about and who I was writing it for. I then started the process of deciding what information and therefore what chapters I would have in the book. Each chapter/topic took time, experimenting with different ways to present the material and lots of editing, re-writing and polishing. I think the one thing I would do differently is to start with a good book format or template on my computer at the beginning of the writing process!
What part of becoming a published author has surprised you?
After the initial excitement and the interviews and interest in the book, things became quiet, so in some respects, this felt like an anti-climax. So I put a lot of time and effort into finding other avenues to promote the book, such as talks to groups, libraries and also writing articles. I wrote a training program for people in professions like mine to educate them about the health benefits of creativity and how to assist their clients in this area.
What advice do you have for aspiring authors out there?
If you are writing a self-help book like I was, then be very clear in your own mind who your audience will be. Be willing to go through the different stages and do lots of research, writing notes and ideas down. Don't let the perfectionist side of you interfere, especially in the early stages when you are writing your first drafts. Get your ideas out first and then polish, polish and polish some more until you are happy with what you've got.
Maybe ask yourself these questions:
Why do I want to write this book?
Who am I writing it for?
What do I want the reader to get from reading this book?
When will I write it? What blocks of time do I have in my life to write this book?
What are some self-care strategies that I can engage in when I feel frustrated or lost?
Who will support me in the journey?
Who will be my first readers who can give me honest feedback to help with the editing process?
How am I likely to get in my own way when writing my manuscript? Being too self-critical? Procrastinating? Worry and ruminating? Getting stressed? Lack of confidence? And then, what are some strategies that can help me overcome these difficulties?
Be aware that writing a book is a huge undertaking, but it's doable if you break this big task into bite-size pieces and that it's incredibly important to be supportive and encouraging to yourself as you go along the way!